The Wasabi family has grown a bit bigger today!
Costa Rica-based Rocket Cartoons has officially come on board to help grow our existing animation team and bolster our ability to create one-of-a-kind, immersive, multiplatform digital experiences.
Rocket is an indie animation studio and the first original content studio in Costa Rica. Known for its high-quality short-form work such as Kip Van Creepy (DreamWorksTV) and Terror in Doomsville (Cartoon Network), they have seen their creations sold into more than 40 territories worldwide. Not too shabby.
We first met Leo, Daniel, and Bryan a couple years ago at Kidscreen Summit. Their work was impressive and let's not kid ourselves, we fell for their Latin charm. After collaborating on a few client projects, it was obvious to all of us that we would be #bettertogether.
Not only can we now produce traditional animation and games/interactive in-house, but we now have the ability to combine our talents and further innovate by producing animated content within game engines such as Unity and Unreal. These real-time engines allow us to create assets that can be used for gaming and animation. This will result in better collaboration, better content, and more efficient productions.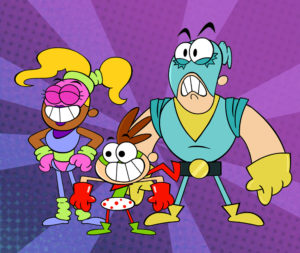 We're not waiting to get started… we're already in production with Rocket on our first original production. "Super Punch!" is about a wannabe hero who gets superpowered gloves that grant him awesome, ridiculous, completely uncontrollable reality-bending powers. It will launch as a 2d-animated series for kids and has been commissioned by Cartoon Network Latin America. It's going to be a knockout! (groan)
Oh, did we mention that Costa Rica has some of the most beautiful beaches in the world? But that wasn't a factor. This was purely a "business" decision. Honest…
Welcome to the Wasabi family. To the moon!